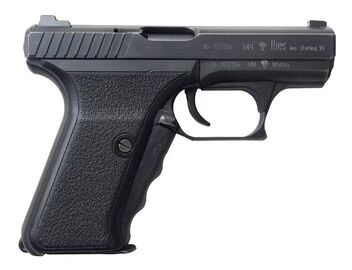 The Heckler & Koch P7
is an innovative German pistol chambered for 9x19mm.
It was used by Karla Fry in a bank robbery and later an attempt to kill Andrew Bogomil.
The most popular varieties of the P7 were the P7M8 (so-named for its 8-round single stack magazine) and the P7M13 (so-named for its 13-round double stack magazine). This gun was submitted into the United States Army pistol trials to compete for the military's sidearm, but failed to win the contract.
The P7's odd, slanted appearance of the handle is because there is an extension underneath the trigger. This extention is an experimental technology called a "handle cocker", which allows you to cock the gun without having to pull the slide or hammer back.
The P7 has been dubbed the "self-loading pistol" because of the handle mounted safety and usually costs around $1,000. So the exotic gun is appropriate for an upper class terrorist like Gruber because of its expensive price.
There are numerous variants of the HK P7. These include the PSP (Police Selfloading Pistol), P7, P7PT8, P7M13, P7M8, P7K3, P7M10 and the P7M7. The P7M7 was an extremely rare .45 ACP variant that was discontinued after prototype stages because it was too expensive and impractical to manufacture. It had a seven round magazine capacity. The P7M10 was chambered for .40 S&W, and had a ten round magazine capacity. The P7M8, P7M13, P7 and PSP pistols are all chambered in 9x19mm Parabellum. The M8 has an eight round single stack magazine and the M13 (this pistol) boasts a thirteen round double stack magazine capacity. The P7PT8 was a training firearm that was never popular, mainly because it couldn't fire live ammunition, only special training rounds. The P7K3 was a conversion pistol kit which had interchangeable barrels and slides for different calibers such as .380 ACP, .22 LR and .32 ACP.
None of these pistols remain in production; all models having been discontinued in 2008. The P7 saw widespread service around the world, in countries such as Saudi Arabia.