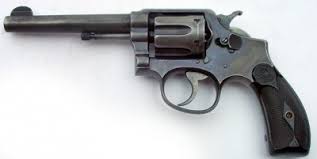 The Smith & Wesson Model 10
, previously known as the
Smith & Wesson .38 Hand Ejector Model of 1899
, the
Smith & Wesson Military & Police
 (which would later be used in their more recent line of weapons) or the
Smith & Wesson Victory Model
, is a .38 Special revolver of worldwide popularity.
It was seen in Beverly Hills Cop.
Description
Edit
It was the successor to the Smith & Wesson .32 Hand Ejector Model of 1896 and was the first Smith & Wesson revolver to feature a cylinder release latch on the left side of the frame like the Colt M1889. In production since 1899, it is a six-shot double-action revolver with fixed sights. Over its long production run it has been available with barrel lengths of 2 in (51 mm), 3 in (76 mm), 4 in (100 mm), 5 in (130 mm), and 6 in (150 mm). Barrels of 2.5 inches (64 mm) are also known to have been made for special contracts. Some 6,000,000 of the type have been produced over the years, making it the most popular centerfire revolver of the 20th century.
It was later replaced by improved, more aesthetically-pleasing revolvers such as the Smith & Wesson Model 15 and the Smith & Wesson Model 19 (the Model 15 chambered for .357 Magnum), however, variants are still produced today, including the stainless steel Model 10, the Model 64.