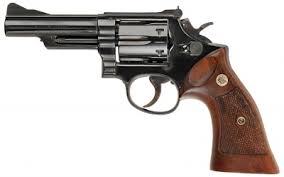 The
Smith & Wesson Model 19
is a revolver produced by Smith & Wesson on its K-frame platform. The model 19 is chambered for .357 Magnum. The K-frame is somewhat smaller and lighter than the original N-frame .357, usually known as the S&W Model 27.
Billy Rosewood carried a snub-nose Model 19 in the first two films before moving up to a Smith & Wesson Model 29. A full-sized Model 19 was seen in the third film as well.
Description
Edit
The .357 Magnum is the oldest "magnum" handgun cartridge. Smith & Wesson played a major part in the development and success of the cartridge and revolver that went with it. Firearms writer and experimenter Philip Sharpe is credited for its development during the 1930s when police agencies were asking for a more powerful round. S&W's Dan Wesson agreed to produce a new revolver that would handle "high-intensity" .38 Special loads, but only if Winchester would develop a new cartridge. Elmer Keith, a well known author and wildcatter at the time, was experimenting with hand loading .38 Special ammunition beyond their original specifications, taking advantage of the newer and better designed firearm frames and metallurgy, and also played a major role in the development of the .357 Magnum. Winchester introduced the .357 Magnum, which was dimensionally identical to the .38 Special except for a .125 inch longer case, and the first revolvers (referred to as ".357 Magnum Models") were completed by S&W on April 8, 1935.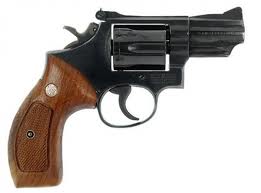 Retired Assistant Chief Patrol Inspector of the U.S. Border Patrol, famous gunfighter, and noted firearms and shooting skills writer Bill Jordan consulted with Smith & Wesson on the design and characteristics of the Model 19. Jordan's idea for a "peace officer's dream" sidearm was a heavy-barreled four-inch K-Frame .357 Magnum with a shrouded barrel like the big N-frame .357 and adjustable sights. After a year of experimentation with improved-strength steels and special heat-treating processes, the result was the .357 Combat Magnum (later designated Model 19), with the first serial-number gun (K260,000) presented to Jordan on November 15, 1955.